There are a lot of misconceptions about heraldry. For instance, the idea that every family name has a coat of arms. That's not true, and those sites which tell you your family has a coat of arms are lying. That coat of arms might have belonged to someone who shared your name (though sometimes they just seem to make it up), but not your family. Because coats of arms have to be granted, almost always to an individual. Then their family and descendants can use it, too.
Another is that coats of arms can only be granted to individuals. No, they can be granted to institutions, too – all kinds of institutions, from regional governments to companies to universities. For instance. Tesco, one of the UK's biggest supermarket chains, has its own coat of arms – though it doesn't use it very often.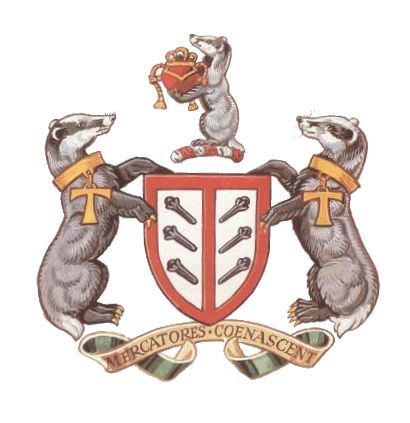 (In case you're curious, the cloves on the shield supposedly represent grocery, whilst badgers were used as the supporters because they're known for good housekeeping.)
Most local governments around the UK have their own coats of arms, and they use local symbols to echo regional identity. Here are a few from around my local area, and I'll tell you about some of the symbols they use.
Staffordshire Coats of Arms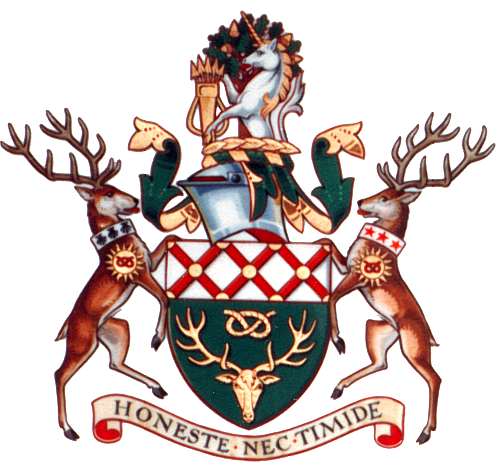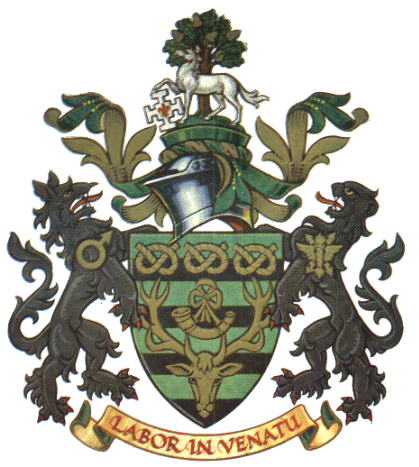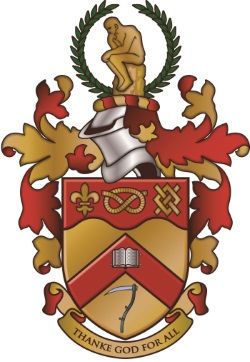 So there are a few recurring symbols here:
Scythe: The scythe appears on both Keele University's crest and Stoke-On-Trent's. The scythe was a symbol used by the Sneyd family, local nobility who actually owned the land which Keele University was built on for 400 years. Stoke is very close to the university.
Knot: The knot is the Staffordshire Knot, a symbol that has been used in Staffordshire since at least the 700s, when it appears on some Anglo-Saxon artifacts. It has been the symbol of the Stafford family since the 1500s, and is now often used to represent the county as a whole.
Fret: The fret is a net (it's that funny knot on the top right corner of the Keele coat of arms, and the netting on Stoke's and South Staffs's arms). It often represents industry, and our area was known for its industry in Victorian times and earlier. It also appears on the arms of many local families.
Stag Head: The stag head, usually on a green background and sometimes with a hunting horn, is used to represent Cannock Chase, a local AONB and former royal forest, meaning it was land preserved for the royal family to hunt on. It's still the home of a herd of around 800 deer.
So that's where I live! Though the symbols are older, most of these coats of arms have been granted since 1950, and they aren't seen very often in public spaces. There are places, though, that have had coats of arms for hundreds of years, like Portsmouth.
Portsmouth's Coat of Arms
Portsmouth's coat of arms occupies a strange place in history stretching right the way back to the birth of heraldry. They appear to be the arms of either William Longechamp or Richard the Lionheart, adopted around the time the town acquired its charter in 1194. They were originally Richard's arms, but William, his chancellor, adopted them as a sign of respect. The town may also have done the same, to honour them for officially chartering their town. At the time, heraldry was still new, and was only used by a few people.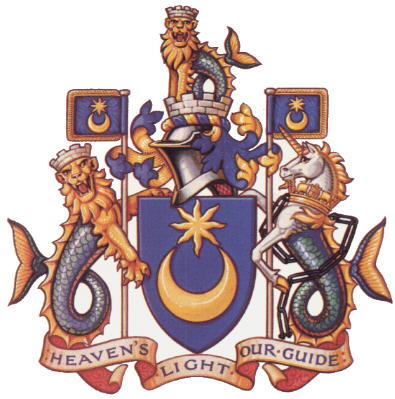 I loved living in Portsmouth, and part of why was how incorporated the city's arms are in its image. For instance, they appear on nearly every street sign.
(Yes, that's a reference to Neil Gaiman's book of the same title – he's from Portsmouth.)
It's also used by the football club, whose stadium I lived very close to.
It was a fascinating time for a nerd like me. You can't go anywhere in Portsmouth without seeing the arms – they even appear on the drain covers – and people everywhere wear football shirts with this symbol. I bet almost none of them know that it's actually one of the world's oldest heraldic images.